I won't bored you with boring details like that blue is the most beautiful color and that Blue and Yellow is the best combination ever and Maccabi Tel-Aviv is the best team but I'll tell you more about me and my life! (-:
So, here is my story!
I born in Tel-Aviv in 14th of September 1988 and at the age of 1 month my family and I moved to Metulla, the northest place in Israel. I grow up with bunch of Metullaim friends that definitely typical to Metulla and won't be found in any other place and I learnd a lot about life. At the age of 8 i joined the hockey team of Metulla and discovered the best sport. During the ages of 12-14 I use to play Basketball, Hockey and to Swim in parallel times. I used all my time. When I grow up I decided to stick to the Hockey and I also helped a lot in the community center of Metulla with the best kids in the world. We had great times and good life and now in Augost 2004, An ex-NHL coach, Jean Perron saw me and helped me join the Notre Dame high school in Wilcox, Saskatchewan in Canada. This is where I'm spenting my life right now trying to develop some hockey skills and have some good time.
The school Picture for 2005

What a life!

Life over Notre Dame in the dorms pretty boring but there are so many great people. The most fun is when you going out although that when you moving to a room of 2 with a great person called Chris Kelo It is not too bad.

 
 
Playing for the national team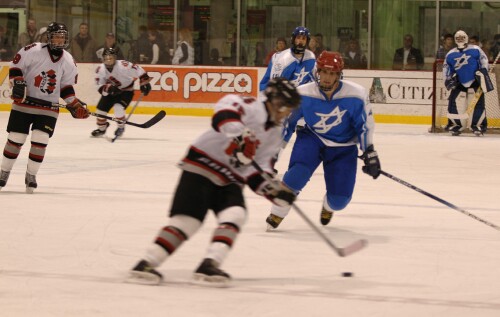 During a game in Ottawa

Favorites
Movies are always good, if they weren't good we wouldn't get to see them. Usually I'm enjoying each and every movie I see.
My favorite music:
Psycho, House, Dance, NY House and what ever Paz bringing (-:
Or Hebrew, Rap or beautiful quiet music
Me with Fisher
Inside the Senators dressing room